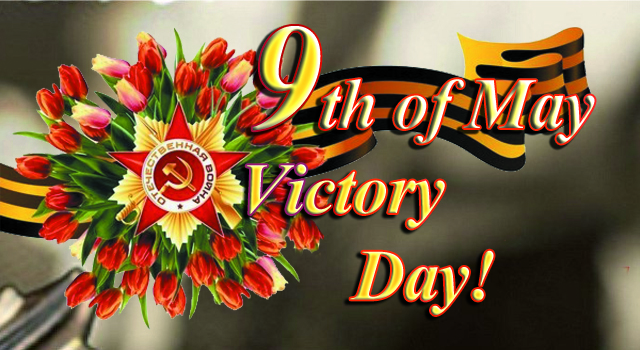 In Russia Victory Day is celebrated on the 9th of May. It's one of unique and the most important national holidays which commemorates the surrender of

Nazi German

y
in 1945 and the end of the Second World War (WWII).
Millions of people died in that war. To honor the memories of those, who fought against the enemies and perished, people wear St George's ribbon on their clothes as a sign of respect and remembrance, they
lay wreaths and an even number of red carnations at the eternal flame and war memorials. T

hey also take part in mass processions, ceremonies and events dedicated to the war victory and watch the biggest military parade on Red Square in Moscow and local parades in other cities and towns.
Victory Day is a day of great sorrow and joy. It's a memorial day. Millions of people sacrificed their lives for peace and freedom so that future generations would live happily in peace on their own lands. We remember this date, the victims of WWII, our victory over fascists and we will tell our children about it so that they will tell their own children. No one is fogotten and nothing is forgotten.
Try to say something about this holiday in English, do the tasks given below.
QUESTIONS FOR DISCUSSION:
1. What do people celebrate on the 9th of May? What are the symbols of this holiday? Why is it a memorial day?
2. What do you know about WWII?
3. Do you have any war veterans or homefront workers in your family? How did they help their Motherland to fight against enemies? Tell a few words about them and their contribution to the victory.
4. How do you spend Victory Day in your family? Do you take part in any meetings, ceremonies, parades? Do you meet war veterans to give them flowers, to listen to their stories and to thank them for their courage and heroism? Do you watch the main parade on Red Square? Do you sing wartime songs or watch war films based on the events of WWII? Do you like to go out in the evening to watch spectacular fireworks in the night sky?